Spirits Worth Howling About.
JT Uppal | Sep 2, 2016
Our friends at Ontario's Southwest paid us a recent visit and discovered the excitement of the region's up-and-coming distillery industry. Get more trip inspirations on Ontario's Southwest's blog. 
A new wolf has joined the Barrel Trail pack in Windsor-Essex.
Windsor has a proud history of distilling and that history continues to grow. Canadian Club & JP Wiser's continue to produce their products in Windsor and there's a rich prohibition history you can take in with experiences like the Barrels, Bottles & Brews Trail, and the Drinks of Walkerville Walking Tour.
Hoping to add to the existing history in Windsor, a new pup has joined the pack in Essex County. Located just outside of Amherstburg, Wolfhead Distillery opened its doors to the public on May 27th of this year. Over the last year and half, the owners transformed an old barn into a craft distillery, a retail space, and an on-site restaurant with a patio.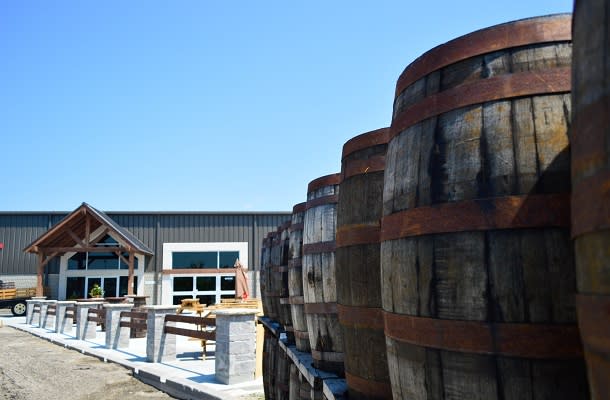 Once stepping foot in the building, you can clearly see all that hard work and planning of the owners paid off. The retail space, called the Bootlegger Gift Shop, has beautiful touches such as the boat counter and lots of wood pieces like pallets for display shelves and barrels of course.  Open seven days a week the retail store offers artisan ground coffee, swag, and of course, the whiskies and vodkas made on site.  Wolfhead produces three flavours of whisky, (original, apple caramel & coffee), and three flavours of vodka, (original, banana caramel & grapefruit). As a fan of unflavoured whisky, I was curious about the flavoured options. Thankfully, I didn't have to wait long as a tour with one of the distillers was next up on the agenda.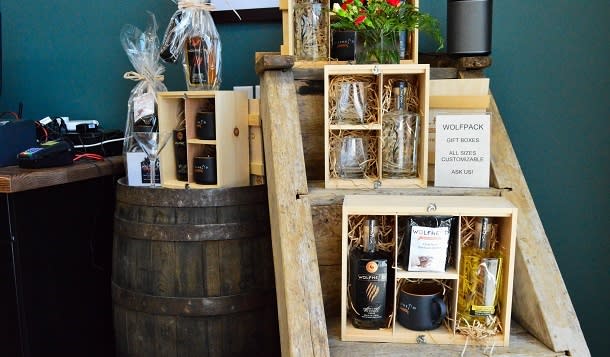 Tours of the distillery run Saturday and Sunday at 1, 3, and 5 pm or at any time with large groups when pre-booked. Our tour guide was distiller and blender Ryan. He took us through the process to craft their whisky and vodka, explaining the role of each equipment piece in the distilling process. All the equipment is top notch and came directly from Italy; Wolfhead is one of only two craft distilleries in Canada that uses continuous stills to produce their products. Ryan explained that continuous stills create more consistence batches of product when compared to pot stills and the reason most craft distilleries only use pot still is that continuous stills cost much more to buy.
Now onto the part I was most eagerly waiting for, the tasting. Lined up in front of us were all six of the spirits available, three whiskies and three vodkas. I started with the whisky line-up, trying original first; it was smooth with a hint of spice and a nice clean finish; definitely on par with something aged much longer than this had been. Next up were the two flavoured ones I was unsure of when I first heard about the line-up, however never being one to shy away from new things, I was ready to give them a shot and I was glad I did. The coffee flavoured liqueur was an easy sell before I even tried it as I am a coffee fiend. As soon as I had the sample, I wanted more! There was great coffee flavours mixed in with sweetness and creaminess; definitely one of my new favourite liqueurs! Next up was the apple caramel whisky and like the other two, Wolfhead has definitely crafted an awesome flavoured whisky here with a great balance of caramel sweetness and fruit tartness.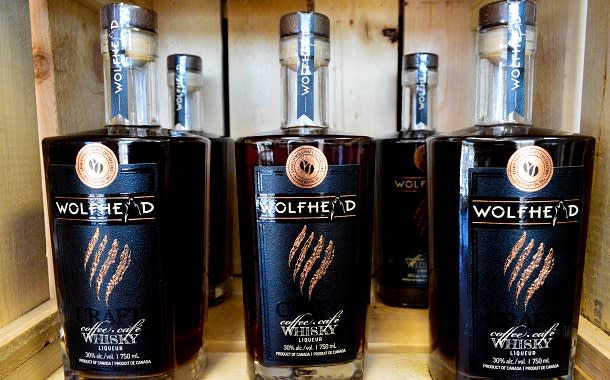 Next came the vodkas. This time I started with the flavoured ones, first up – grapefruit. With just a sip, you can taste the great balance of citrus and clean vodka flavours; I could easily see myself on the deck enjoying a glass on the rocks in the sunshine. It just tastes like summer! Continuing onto the banana caramel, this vodka is definitely the most flavourful with plenty of sweetness and fruit tastes throughout. I feel this vodka would work really well with sparkling water if you like to mix it up with your drinks. Last, certainly not least, was the regular vodka. I am a vodka drinker and have tried my fair share and honestly, the Wolfhead folks really hit it out of the park with this one. The vodka is so smooth and it tastes so clean. You can taste the difference seven times distilled makes with all three vodkas.  My hats off to the talented distillers and blenders like Ryan at the facility; Wolfhead sure knows how to put together a line-up of spirits.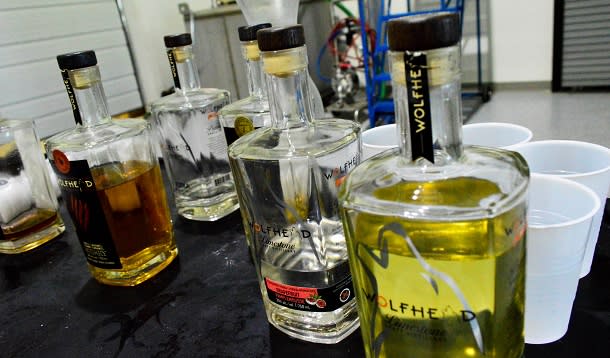 Ryan was a wealth of information throughout the tour and gave us lots of interesting tidbits as he took us through the tasting. All water used in the distilling process is filtered through limestone from a nearby quarry just like all the big American whiskey producers do. Another surprising tidbit I learned was that all the products are gluten free. Even though wheat is used, the gluten from the wheat doesn't make it through the distilling process.
Now, you must be thinking, there's so much going on at Wolfhead, there can't possibly be more coming. Well, there is. Even though they just opened, they're hard at work developing a line of gin and rum as well as coolers. Plus, there's a craft brewery being developed next door. They're also looking to grow their own wheat to have their very own supply for their distilling. And all this is in addition to all the great food on the menu in the restaurant now, read up on the tasty bites we tried here.
I could keep telling you more, (check out my Wolfhead restaurant blog), however, Wolfhead Distillery is something that needs to be checked out and you have to try their line-up of whiskies and vodkas! Speaking of which, I still have one bottle left from my trip and the whisky stones are just about ready.
Happy Sipping!
Use #barreltrail to join the conversation about the Barrels Bottles & Brews Trail, where you can where you can experience the history of Canadian Whisky, Prohibition, and enjoy a flight of craft beer or small batch-ultra premium spirits.